Grant Featherston was Australia's leading 'post modernist' furniture designer. He was born in 1922 in Geelong, and gained prominence in 1947 when he produced his relaxation chairs.Grant Featherston was Self-taught, he designed lighting and glass panels before serving in the army from 1940-1944. Returning to Melbourne he produced the first of his famous plywood shell Contour chairs in 1951.Featherston Contract Interiors furniture showroom opened in 1956, and in 1957 he became a consultant to Aristoc Industries for 13 years.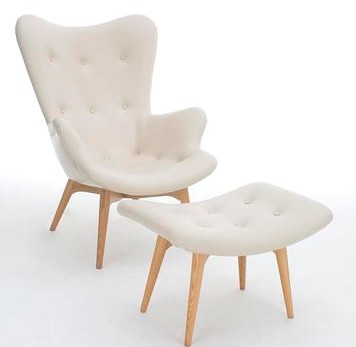 The first relaxation chairs were made from plywood and webbing, although some were upholstered with sponge rubber and fabric.Featherston's philosophy that a chair should follow the body's contours was confirmed in the design of his contour chairs, which were produced for five years from 1951, Plywood was used for the chair's frame, which was upholstered. Examples are shown.
Mild steel and cane were used for the cane-metal chair, designed in 1954. This was followed by the easy chairs of 1955 that were constructed from plywood, iron, rubber webbing, and were upholstered. The townhouse suite followed in 1956.
From 1957 to 1970 Grant Featherston was consultant to metal furniture manufacturer, Aristoc Industries. Chairs were designed and mass-produced, and may still be seen across Australia. Some designs are still being made today. Some designs are still being made today. The Delma stacking chair, in particular, was copied by other manufacturers.
The Scape armchair, made in 1960, was highly sculptured and manufactured from a small number of separate parts. These parts were made from plywood and steel. The back and the seat were covered in foam and fabric.
Grant Featherston's name sprang into media prominence in 1967 when his 'talking chair' was displayed at the Australian pavilion at Expo '67 at Montreal. This was followed by the Stem chair in 1969, made mostly from high density polyethylene. Grant worked with his wife Mary to produce some of Australia's most beautifully designed chairs.
Grant featherston r160 contour chair is fully upholstered contoured ply armchair with button detail to seat and back on solid timber sub frame with tapered legs.