Early Modern Danish Design - Papa bear chair designed by Has J Wegner
Not too hard, not too soft, with wood tipped arms like big bear paws, the Papa Bear Chair cuddles the sitter with a big bear hug.Be embraced by the great bear paws of this all time maximum comfort easy chair. Consider it an investment for life, and along comes at least two weeks of thorough work of Danish craftsmen. Hand build from the bottom up with a solid wooden frame strongly joined and shaped to make a proper base for the comprehensive upholstery work.

Papa Bear stature and peek-a-boo walnut armrests highlight this cozy reading/lounge chair. The broad, upright button-tufted seat back seems to envelope its inhabitant. Tipped wood armrests are like Papa paws. The walnut hardwood frame can be upholstered in a variety of fabrics and leather.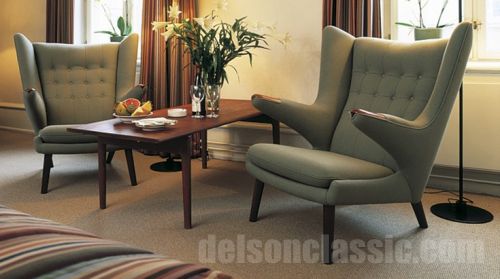 Apart from the seat cushion no foam is used in the upholstery - only four basic natural materials; cotton fibre, palm fibre, tow and horse hair. And then of course springs carefully build up to support the back.
The Teddy Bear Chair was the first Hans J. Wegner design produced at PP Møbler, and it marked the beginning of a life-long passionate collaboration involving generations of craftsmen and countless hours of work in the workshop developing prototypes and production techniques for numerous Wegner models. And yet The Teddy Bear Chair remained the most exclusive piece of them all.
Nowadays, Delson Classic is devoted to present these timeless modern classic chairs to you.