Eames DSW chair, designed by Charles and Ray Eames in 1948, stands for Dining Side Chair Wood-base. It is one of the most successful modern architecture and furniture. Charles Ormond Eames, Jr (1907–1978) and Bernice Alexandra "Ray" (née Kaiser) Eames (1912–1988) were American designers, who worked in and made major contributions to modern architecture and furniture. They also worked in the fields of industrial and graphic design, fine art and film.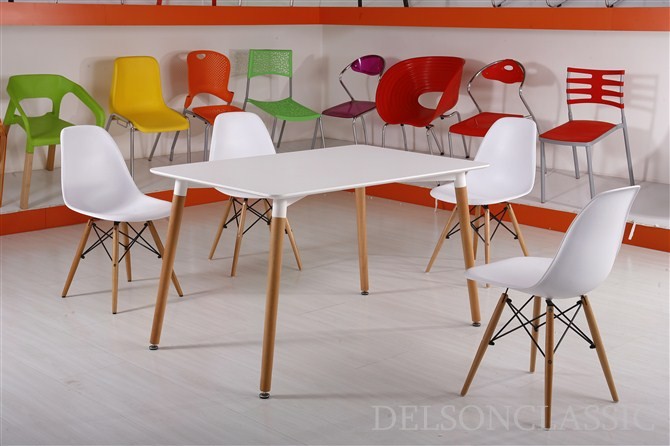 Eames DSW chair can be made both in fiberglass seat and plastic seat. Actually Eames Plastic Side Chair is a contemporary version of the legendary Fiberglass Chair.Firstly, the goal was to produce a chair that could be manufactured at a low cost, without compromising the quality. To succeed, wood and stainless steel was used for the base, and the seat moulded in plastic. This ensured that the chair stood out when it was first launched, just as it still stands out today, even though it is recognizable to many.Like many other classics of furniture design, the DSW is both futuristic and timeless. The natural feel of the wood is combined with the synthetic plastic. Since 1948 many pieces of furniture made of plastic have entered the marked, but few of them can measure up to the DSW.ABS is the most popular option. It has a matte finish and the metal rods are black. The fibreglass chairs are shiny.Eames DSW chairs have many colors available.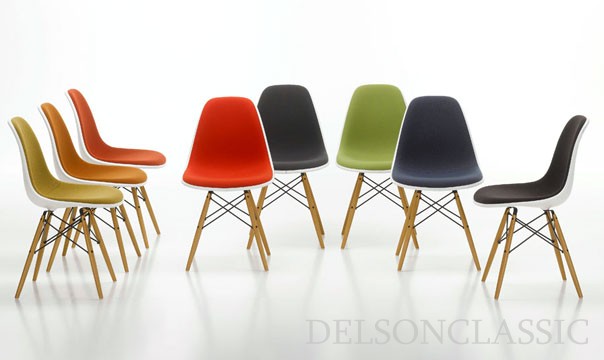 With the popularity of the eames DSW chair, another version with full upholstered seat shell is aslo produced by us (DELSON CLASSIC).Clients can choose the contemporary versions which they prefer, no matter what they buy, the eames chairs are the timeless classic dining chairs forever.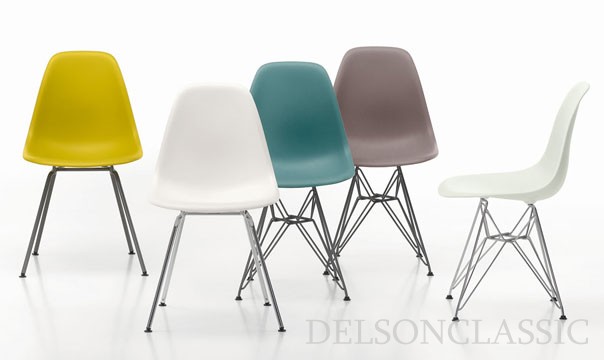 Besides the Charles Eames DSW side dining chair, DELSON CLASSIC also produce Eames DSR chair, Eames DAR chair, Eames DSX chair, Eames DAW chair,Eames Molded Plastic Rocking Chair RAR and so on.
Our products do not just the simple replica eames chairs, but Miniatures correspond in great detail to the originals. They are the ideal illustrative material for instructors, designers, and architects.