Chieftains Chair by Finn Juhl
Chieftains Chair Designed by Finn Juhl is one of the best danish design furniture model ever.Anyone who likes danish designs and best quality furniture should discover it and own its beauty.
With distinctive shapes inspired by primitive weaponry and a seat that appears suspended above the frame, the sculptural form of the Chieftains Chair (1949) changed the future of Danish design. Finn Juhl created the chair for the 1949 Cabinetmakers' Guild in Copenhagen.
it is a fine example of Juhl's great idea of separating the sculpturally shaped seat and back from the wooden frame. The same principle is evident in the 45 Chair, designed in 1945. Here, emphasis is laid on the elegantly shaped armrests.The story of its name is also interesting. During the exhibition, King Frederick IX sat in the chair and so a journalist suggested the name "King's chair". Still, the designer Finn Juhl didn't really like the way that sounded but it gave him an idea. He then proposed the alternative " chieftain's chair". At some point the apostrophe was dropped thus resulting the current name. The Chieftains Chair request a complex process of production and it do shows that "the craftsman's ability to form is probably the same as that of a sculptor."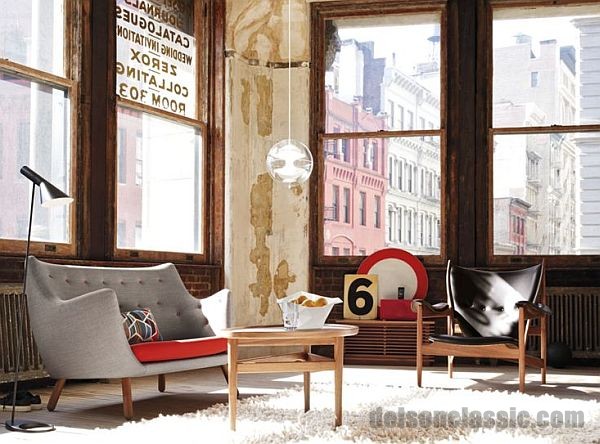 "Delson Classic" focuses on details to fully present the Chieftains chair as a King's chair.High quality material and experienced craftsmanship with affordable price make you the owner of the top end replica Chieftain chair, now you can have the best chieftains chair reproduction at affordable price. This incredibly beautiful chair can decorate your house in a way that makes it seem morden as well,the repro chieftain chair surely will outlives generations because of the excellent design and constructure.