Isamu Noguchi (1904 - 1988) was known for his sensitive use of materials. Noguchi often used wood in his furniture designs to make biomorphic sculptures related to surrealism.
One of the great sculptors of the 20th century, Noguchi created "lived spaces" for the theater, interiors gardens and playgrounds. He also sought to bring sculptural qualities to the many objects he designed for common use.For instance, his representative design furniture as below.
Noguchi Freeform Sofa and Ottoman
The Isamu Noguchi Coffee Table
Noguchi Rocking Stools
Noguchi Cyclone Dining Tables
Noguchi Prismatic Table
Eames Wire-Base Table
The Noguchi table is one of the most popular modern designs marketed today.Its base was inspired by the form of the traditional washbasin, and it features a unique combination of cast iron, chrome-plated steel and laminate.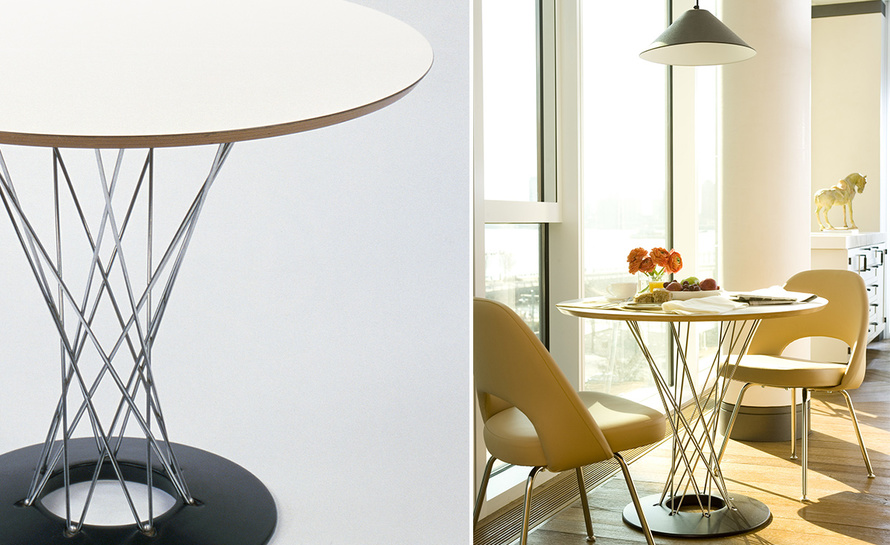 We supply the collection of Isamu Noguchi unique and high-end furniture reproductions for your home. Whether you need a new table, ottoman or floor lamp, these pieces are sure to add style to any room. Isamu Noguchi furniture is widely recognized for its masterful unity of form and space. His designs are truly modern in nature, combining interesting shapes, bold colors and clean, crisp lines.
Another popular design Noguchi Coffee Table (1948) conceals nothing, revealing everything about the nature of simplicity. Two smoothly shaped pieces interlock to form a tripod that supports a three-quarter-inch-thick slab of transparent glass. Practical and beautiful, the Noguchi Table will uphold a variety of objects in the office or home. The wood base can be painted in quite a few colours like original light walnut,dark walnut,black,white and so on. You will definitely have your own style.