George Nelson is one of the most creative desginers.He designed products like clocks, lamps and furniture.Let us see some his works of art furniture: George Nelson Bench, Coconut Chair, End Table, Marshmallow Sofa, Miniature Chest, Nelson Platform Bench, Nelson Swag Leg Group, etc.
George Nelson ranks among the most important designer personalities in American design history.George Nelson (1908-1986) was, together with Charles & Ray Eames, one of the founding fathers of American modernism. We like to think of George Nelson as "The Creator of Beautiful and Practical Things". As an architect, a designer, an exhibition designer and a publisher, he was a highly influential figure in design and architectural discourse for several decades.George nelson designed beautiful furniture and clocks.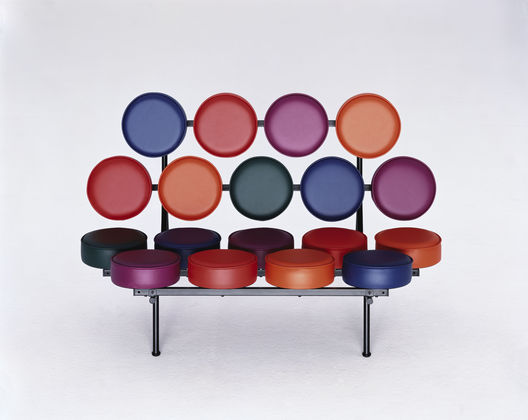 George Nelson's Marshmallow Sofa transforms the traditional sofa into a playful three-dimensional object with eighteen colourful cushions attached to a simple steel frame. Due to the unusual form and construction of the Marshmallow Sofa, it is one of the most extraordinary sofas in the history of design. When the Marshmallow sofa was introduced in 1956, the Herman Miller catalog described it as "The first of a series of pieces embodying a new concept in soft seating. We feel that it has possible use not only in the home, but in contract use for lobbies in public buildings where the very fact that it is unusual will be a plus." The catalog also said, "Despite its astonishing appearance, this piece is very comfortable."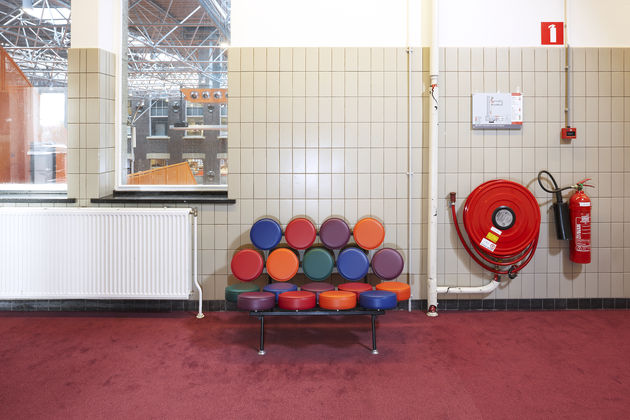 The playful Marshmallow sofa is a landmark of modern design that's still turning heads and making people smile. The cushions can be all the same color or in multiple colors for the right look in a private office, lobby, lounge, living room or den.This sofa is one of the earliest manifestations of Pop Art in furniture design. Its unique form makes it one of the few truly unconventional sofas in design history. An extension element with six additional cushions can be mounted between two sofa units, making it possible to create a sofa of indefinite length. The individual cushions are upholstered with a robust vinyl cover.
If only all design "failures" were so successful. The inspiration for the Nelson Marshmallow Sofa (1956) was launched when an inventor approached George Nelson and Irving Harper with a planned "self-skinned" injection plastic disc that would be inexpensive to produce and unerringly durable. As the proposed cushions had a maximum diameter of 12", the designers perched 18 of them atop a steel frame. Sadly, the inventor's vision for high-resiliency, low-cost cushions never came to fruition, but the design was so compelling that Herman Miller chose to produce it anyway. Designed with both residential and commercial applications in mind, the cushions are detachable for easy cleaning and therefore interchangeable to equalize wear. The atom-like appearance of the Marshmallow Sofa is a precursor to the aesthetic style of the pop art of the 1960s.
Delson Classic Furniture Factory also produces high quality George Nelson design chairs, George Nelson clocks and George Nelson lamps.