Poul M. Volther was a prolific and interestingly insightful designer that saw potential in many things that others could not. He was part of the sculpting of the iconic modernistic generation of design along with other famous designers like Le Corbusier, Arne Jacobsen, Hans J. Wegner, the Eames and Alberto Lievore just to name a few. The Corona Chair was first introduced in 1964 to the mainstream public, but was conceived three years earlier in 1961 and that model was crafted out of solid oak, but the second successful model 'EJ 605' was released a year later and it was made out steel. It was initially clear to everyone that this Danish designer has a lot on his mind, and this design was like nothing they had ever seen before. The Corona Chair received a lot of attention and it also received a lot of acclaim as well.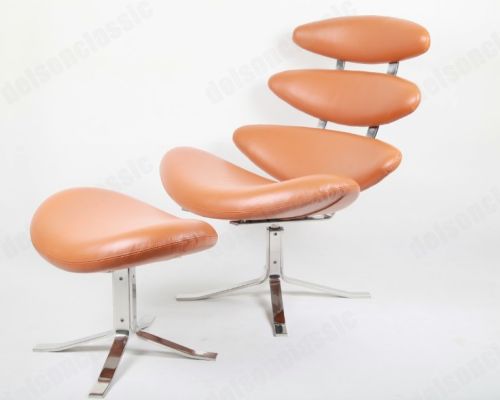 Poul Volther's approach to the futuristic, modern, naturalistic phase of design from the late 40s to the early 90s was dead on, as the aim of this chair was incorporate every aspect of these attributes into one solid piece. The second model was decided upon after many trials and experimenting with many various materials, and although this model was made of steel and it resembled its predecessor, it was not the same vibrance that was outputted from both models. The 'EJ 605' was efficaciously a lot stronger and firmer by just looking at it, and it represented the way the future might look, with modern materials, and its natural stance to the light and essence of its heavenly name. And on that note, both the elliptical design of the chair and its name were inspired by a time-lapse photograph of a solar eclipse.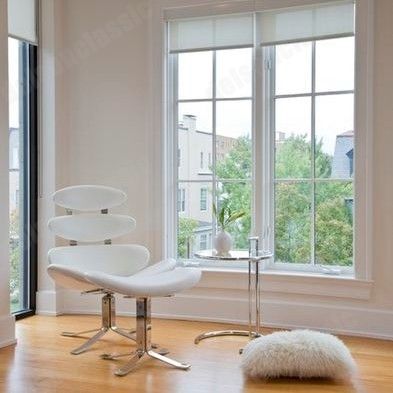 The essential design is a rare combination of organic expression and ideals, ergonomics, functionality, and technical streamlining. The presence of the four separate, upholstered, oval shaped shells meeting your back at ideal parts, providing maximum comfort and support to the body and the spinal column, as the chair itself appears to have one of its own running down the back of the chair and joining the four shells together. The shells also seem to represent the way the ribs look and are attached to the spine, embracing the flow and the ultimate design of human anatomy. The support (spine) of the chair and everything else is mad of stainless steel frame with a high lustrous finish, and the upholstery comes in either high grain Italian leather or a wide range of fabrics and colours. The oval shells are heavily padded and made of moulded polyurethane foam, and the legs are made of matt chromed spring steel. And the roundness of the elliptical supports of the backrest comes all the way that can also be provided as armrests as well.